YOUR LOCATION:HOME > 33 Safety Equipment
33 Safety Equipment
HYDROSTATIC RELEASE Unit 自动离托装置(静水压力释放器)

| | | | |
| --- | --- | --- | --- |
| Type | Material | Release depth | Release Pulling force |
| JSQ-C1 | Stainless steel | 2-4M | 185kg |
| JSQ-D | Strengthen nylon 66 | 2-4M | 185kg |
Life Jacket(船用救生衣)

| | |
| --- | --- |
| Buoyancy | Scope of application |
| ≥103 | For all kinds of shipping to load onto ship |
Lifebuoys 救生圈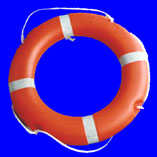 a.
1、Out diameter710mm Inner diameter440mm
2、It be capable of supporting not less than 14.5kg of moron in fresh water for period of 24hr
3、It have a mass of not less than 2.5kg
b.
1、Out diameter710mm Inner diameter440mm
2、It be capable of supporting not less than 14.5kg of moron in fresh water for period of 24hr
3、It have a mass of not less than 4.0kg
Lifejacket light 救生衣灯 

DFYD-L-A、DFYD-L-B 1 Lifejacket light

DFYD-L-B 2 Lifejacket light

DFYD-L-BLifejacket light

DFYD-L-BLifejacket light

Type
Technical parameter

DFYD-L-A
DFYD-L-B
Lighting Intensity
≥0.75cd
≥0.75cd
≥0.75cd
Working time
≥8 hours
≥8 hours
≥8 hours
Working Voltage
2.9V
6V
6V
Store the environment temperature
-30℃~+65℃
-30℃~+65℃
-30℃~+65℃
working environment temperature
-1℃~+30℃
-1℃~+30℃
-1℃~+30℃
Lighting Type
Often Light
Flash Light
Flash Light
Flashing frequency
----
50-70times/minute
50-70times/minute
Lighting color
White
White
White
Weight(including the battery)
≥128g

≥158g

≥150g
Term ofvalidity of battery
5years
The alkaline drycell No.5,that use th tem of validity of battery serves as the standard
5years
Lifebuoys 救生圈

DFFD-96-B3 Light for Life raftafts

DFFD-96-B2 Light for Life raftafts

DEFD-96-B1 Light for Life raftafts



| | | | |
| --- | --- | --- | --- |
| Type Technical parameter | DFFD-96-B1 | DFFD-96-B2 | DFFD-96-B3 |
| Lighting Intensity | ≥4.3cd | ≥4.3cd | ≥4.3cd |
| Working time | ≥12 hours | ≥12hours | ≥12 hours |
| Lighting Type | Often Light | Flash of light | Flash of light |
| Flashing frequency | 50-70 times/minute | 50-70 times/minute | 50-70 times/minute |
| term of validity of battery | 3years | 3years | 3years |
Lifejacket light 救生衣灯 

Lifeboat Matches

Safety Knife

Stretcher

Lifeboat raft grain ration 救生口粮

Rocket Parachute Flares




| | | | |
| --- | --- | --- | --- |
| Name | luminous Intensity | Flare time | Launching height |
| Rocket Parachute Signal | ≥30000cd | ≥40s | ≥300m |
Air respirator/resuscitator




Type
Working pressure of the gas cylinder
Volume
of the gas cylinder
tolerance of storing
service time
warning pressure
weight
packing the size
a.
30
5
1500
40-50
4-6
≤12
755× 460 ×290
b.
30
6
1800
50-60
4-6
≤14

755× 460 ×290

c.
30
6.8
2040
50-60
4-6
≤10
755× 460 ×290
Air compressed emergency escape breathing device
| | | |
| --- | --- | --- |
| Volume | a | b |
| amount | 2.2L | 3L |
| type of products and bottle of air store atmospheric pressure strength | 21Mpa | 21Mpa |
| sustain service time | ≥10mins | ≥15mins |
| products weight | ≤6kg | ≤8kg |



Fire Bucket

Hose compartment

lifebuoy

floating ring

Rescueline

Shore connector



Flameproof lamp
Insulated immersion and thermal protective suits

The time of wearing
<2min><!--2min<-->
preserve temperature
-30℃-+65℃
the size of specification
L type:Suitable for height above of 175m.
Stype:Suited to being fewer than 175mperson.
waterproof performance
person floating in water An hour, the inflow water in the clothes is smaller than 200g.
heat preservation speciality
The persins who wear soak for 6 hours in quiet rivers of 0-2 degrees Centigrade,the body temperature will not reduced over 2 degrees Centigrade.
buoyancy performance
person who wear it can look through to face upward position within 5 seconds,mouthfuls of nose above surface 120mm,soaking for 24 hours in water,its buoyancy loss is below 5 degrees Centigrade.
HOSE NOZZLE COPPER NAKAJIMA_INTERLOCK-CONNECT 40X12X350MM?330801

Hose Couplings 皮笼接头(330851-330880)

Reducing Hose Couplings

Reducing Hose Couplings

Slotted V-Gard Safety Helmet 安全帽




| | | | |
| --- | --- | --- | --- |
| Name | Luminous Intensity | Flare time | Launching height |
| Rocket Parachute Signal | ≥30000cd | ≥40s | ≥300m |
INSULATED IMMERSION SUIT: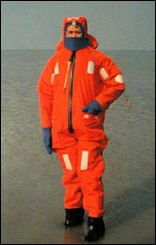 Wearing time <2min><!--2min
Storage temperature -30℃-65℃
Temperature appliable -1 +30℃
Size L:for a wearer 1.75~1.90m tall?
S:for wearer under 1.75m tall
Warm performance After the suit being soaked in smooth water at 0℃-2℃ for 6 hours,the body temperature drop of the wearer should be less than 2℃ Buoyancy The wearer can turn round in 5seconds to keep a safe floating position with the face up ward and the mouth above water at least 120mm.the buoyance loss should be less than 5% after the suit being soaked for 24 hours
Net weight 5±0.5kg(CCS CERTIFICATE)
Sea Anchors

救生艇海锚

For Lifeboat

For Liferaft

Lifeboat Rowlocks

救生艇浆叉




Whistle 330252

Jack Knives 救生艇小刀

Fishing Tackles 救生艇钓鱼具

Fishing Tackles 救生艇钓鱼具

Dringking Water 救生艇饮用水
Lifebuoy Self-Activating Smoke Light
救生圈用自己发烟发光信号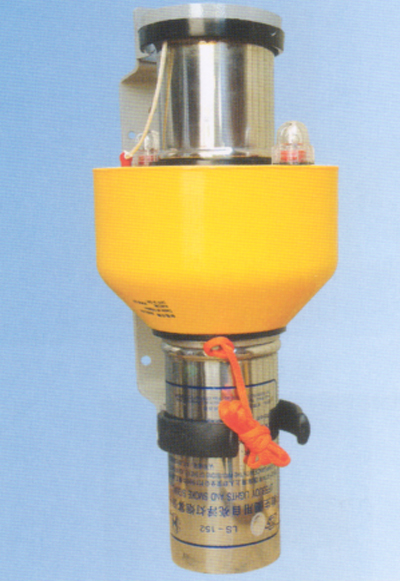 | | | | |
| --- | --- | --- | --- |
| Name | Luminous intensity | Working time | Flare time |
| Lifebuoy Self-igniting Light | ≥2cd | ≥2 hours | ≥15min |
Lifebuoy light
| | | |
| --- | --- | --- |
| Type Technical parameter | DFQD-L-A | DFQD-l-B |
| Luminous intensity | ≥2cd | ≥2cd |
| Working time | ≥2hours | ≥2hours |
| Working voltage | 2.9V | 6V |
| Specified parameter of the bulb | 2.5V0.9A | 4.8V0.9A |
| Store the environment temperature | -30℃~+65℃ | -30℃~+65℃ |
| Working environment temperature | -1℃~+30℃ | -1℃~+30℃ |
| Lighting Type | Often Light | Flash of light |
| Flashing frequency | ---- | 50-70 times/minute |
| Lighting Color | White | White |
| Weight(including the battery) | 460g | 550g |
| Term of validity of battery | 3years | 3years |